Private Cloud Account – Secure sharing of large files, especially for SMBs
The private cloud account offers in addition to the commercially available features such as workflow support the integration of mail, data lists, calendars, blogs, wikis, and forums. Therefore, our managed solutions offer a secure platform for small and medium-sized enterprises (SMEs), as well as for projects which require an exchange of large files (plans, manuals, images, etc.).
Forget problems with mail attachments which are too big and profit from the potential of a clean version management in flexible teams of craftsmen, engineers and/or developers. We are happy to advise you personally and design your individual solution in accordance with your requirements. Could we arouse interest? Please feel free to contact us straightaway!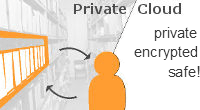 Private Cloud Starter Package
Product range:
1 private cloud account
50GB hard drive storage
5GB separate backup storage
unlimited transfer volume
secured with SSL certificate¹
* 19% VAT included, plus set-up fee.
¹ SSL certificate from Let's Encrypt, other certificates available at extra charge.