18.03.2020 - Tags:
Home office at the time of corona pandemic
Since the end of 2019, the lung disease COVID-19 triggered by new coronavirus SARS-CoV-2 has been spreading rapidly, has reached Europe in the meanwhile and has quickly developed into a global pandemic. "Flatten the Curve" is now the order of the day: the spread of infections has to be slowed down as much as possible to prevent the health care system from collapsing. Now, more and more companies are preparing for home office. This is not just a tool to slow the spread, but in worst case the only way to keep the business going. Groupware functions and cloud services are fundamental for a functioning home office.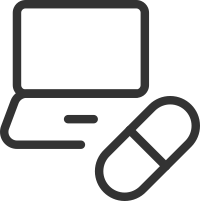 Businesses can help keep the contagion curve flat. As a precautionary measure to prevent the virus from spreading, people are working exclusively in their home office for several weeks and reduce contact to other people to a minimum. Even the absence of work and the lack of direct contact between the workforces can slow down the spread of the corona pandemic.
The right equipment: Compared to a large monitor with keyboard, a laptop is not an equivalent work tool. Tips for setting up the workplace and aligning the desk and office chair can be found, for example, at https://media.t3n.de/redaktion/homeofficeguide/t3n_Homeoffice_Guide.pdf. There you will also find tips on digital offers for children and important hygiene advices for time at home.
The exchange of data should generally only be encrypted (TLS/SSL) and take place via a virtual private network (VPN), which is set up by the IT department. In order to be able to protect and exchange company-internal data securely, a VPN is necessary and must be provided with a safe operating concept, so that no hole is torn in company-internal IT security measures. In this way, employees can be provided with secure access to the company's internal network. If you want to exchange data quickly, easily and independently from end devices in another way, you will find an alternative with open source clouds. Since numerous public cloud storage services are not compatible with the GDPR, alternatives such as Nextcloud should be used:
→ https://www.aixzellent.com/de/premium_privateclouds.
The distance also changes the communication structures of the teams internally and externally. Messenger programs and the possibility of video conferencing are an important tool for collaboration in remote workplaces. There are also challenges here: The video connection may not work if employees live in an area that is not yet connected to fiber optics or the bandwidth for the private connection could not allow a bandwidth to be linked to professional requirements. For video conferencing, there should be a technical infrastructure with upload speeds of more than 10 Mbit/s if possible. Project management tools help planning projects and to-dos, given they are not already integrated as accompanying project structures anyway.
In general, the following applies to IT security issues: All tools used should be discussed and set up with the company's data protection officer. Scammers and other criminals are already trying to use the crisis. IT administrators who otherwise quickly take care of maintenance tasks personally in the office instead of explaining it to all employees must now find other ways of performing their tasks. For remote maintenance, we recommend solutions such as NoMachine or Teamviewer. With these tools employees can access someone else's computer and quickly provide help with IT questions and problems.
Another problem with home office: executives can no longer see their teams working and thus have doubts about their productivity – regardless of whether these doubts are justified or not. Only the results achieved should count in reality, however, there is a different situation at many companies. Regular reports can keep managers up to date and doubts can be proven wrong.
The previous investment in digitization is now paying off for companies. If documents and relevant information are available electronically and processes have been adequately, digitized, permanent work at home office is possible. The current crisis is driving the digitization of working life and integrating the internet into everyday work. If the home office is approached correctly, it can be more productive even for teams than in the office. However, the right hardware and software, a suitable workspace and way of working are essential. Challenges remain, but maybe this is the chance to try out home office with the entire team. In general, we all have to slow down the spread of the corona virus as much as possible and protect the weakest in society. Let us keep the Covid 19 disease rate as low as possible!
If you have any further questions, aixzellent team is available at any time by phone and email.
28.01.2021 - Choosing your own cloud - GDPR-compliant and without compromises [more...]
30.11.2020 - OnlyOffice - Working without Microsoft and Google [more...]
02.11.2020 - Digital policy and state trojans [more...]
30.09.2020 - Online events – more than a room [more...]
28.08.2020 - Consent-free tracking with Matomo as an alternative to Google Analytics [more...]
22.07.2020 - Privacy Shield Judgement - Privacy vs mass surveillance [more...]
17.06.2020 - Data protection-compliant work from home: decentralized and open source [more...]
26.05.2020 - GDPR-compliant e-learning with BigBlueButton, Moodle and Nextcloud - data protection begins with the little ones [more...]
24.04.2020 - [more...]
20.04.2020 - Home office tools: not everything that glitters is gold ... [more...]