26.02.2021 - Tags:
Mobile Device Management with Relution - Device Management for schools and SME
The Corona Crisis has shifted workplaces and classrooms into the digital space. In the process, home offices and classrooms present new challenges for everyone. With Mobile Device Management Relution, Apple and Android devices can be managed remotely, regardless of manufacturer. In this way, devices purchased by the company or school authorities, or even private devices, can be used securely and conveniently in the company and school context. We have recently become official partners of Relution.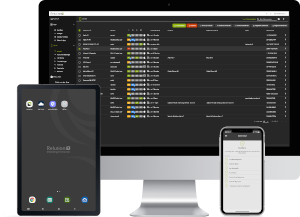 The procurement of mobile devices raises the question of central administration for IT managers. Simple operation with a German-language interface and, in particular, compliance with data protection (DSGVO) are unavoidable criteria in the search for a suitable solution. The platform-independent Mobile Device Management Relution from the German software manufacturer M-Way Solutions meets these requirements. The two versions Fully Managed and Supervised enable full control over the remote management of devices. With the use of Workprofile or Bring Your Own Device (BYOD), private devices can also be used. This makes the software interesting for different application scenarios in schools and also for SMEs. The strict separation of private and work-related data is ensured by appropriate configurations. The multi-client capability of Relution makes it possible to provide separate areas for different fields of application. Managed devices can be configured so that only selected functions, apps and content are available to users and specific access rights are granted. By connecting to existing systems, user directories can be integrated for authentication and local shares for secure file storage.
The software does not store any data in a cloud, can be easily integrated into the existing IT infrastructure and operated locally. Relution scores well on the topic of data protection, and that is important: Not only does the GDPR classify the data of underage students as particularly worthy of protection, but data in the corporate context should also be well protected. In addition to the necessary professional and technical aspects, Relution also fulfills the legal aspects. As the software can be operated regionally as SaaS (Software-as-a-Service) as well as on the company's own infrastructure, the risk of data misuse is significantly reduced. Here, Relution itself takes a stand on the topic of digital sovereignty for education: https://relution.io/news/digital-sovereignty/

As a full-service provider, we help both school boards and companies with their own data protection. We develop individual concepts for different requirements. Simply contact us without obligation if you need further information.
Further information on e-learning in the field of education can also be found at https://www.aixzellent.com/en/premium_e-learning and for SMEs at https://www.aixzellent.com/en/premium_applicationhosting.
20.04.2023 - Increase of Cyberattacks [more...]
25.05.2022 - Mastodon - Alternative to Twitter [more...]
27.04.2022 - Special protection for Critical Infrastructures in times of war [more...]
30.03.2022 - Secure & DSGVO-compliant teamwork with Nextcloud [more...]
22.02.2022 - Google Analytics not permitted in Europe from a data protection perspective [more...]
19.01.2022 - Promotion of Open Source [more...]
16.11.2021 - Our aixCMS [more...]
29.07.2021 - IT security with aixzellent [more...]
03.05.2021 - Challenges with mobility data [more...]
26.02.2021 - Mobile Device Management with Relution - Device Management for schools and SME [more...]