22.02.2022 - Tags:
Google Analytics not permitted in Europe from a data protection perspective
Google Analytics is used by 50-80% of all websites and is therefore one of the leading web analysis tools worldwide. However, the data quality could be improved, commercially and above all legally not unobjectionable. Now the integration of Google Analytics on EU websites has been officially declared as not allowed from a data protection perspective.
Google Analytics is a tracking tool used for traffic analysis of websites. Since the Internet is characterized by many indicators that provide information about user behavior, many website operators like to use the tool. With it, it is possible to analyze and optimize digital content of one's website in order to better reach one's target audience and thus generate more value for the company.
Austria's ruling by the authorities as a signpost for other countries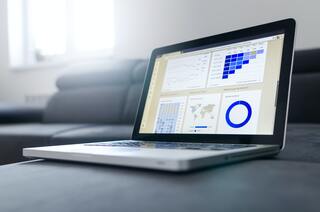 Recently, the Austrian Data Protection Authority (DPA) officially stated that the use of Google Analytics violates the General Data Protection Regulation (GDPR). In addition to Austria, there are other countries where similar lawsuits are being initiated and implemented. In the Netherlands, there are already warnings that Google Analytics is likely to be banned soon, and in France even a tougher decision than in Austria has been made.
The decision in Austria is considered a landmark ruling that will serve as a model for similar cases. Even though the ruling only relates to netdoktor.at, it serves as a basis for other websites that use Google Analytics.
Why is Google Analytics not compliant with data protection?
One problem is the transmission of tracking data by Google Analytics to the USA, which is ultimately read by security authorities such as the NSA, which violates informational self-determination. Google itself has not (yet) commented specifically on the rulings.
What are the consequences of the ban for companies that use Google Analytics?
There are basically two possibilities as to how things will continue with Google Analytics. If the USA introduces adequate data protection in its country, EU citizens can be better protected. However, it is uncertain whether this will happen at all. Another option would be for US providers not to process data from abroad in the US. Consequently, a separation of products for the US and EU is not out of the question.
Data protection is close to our hearts
In the longer term, however, transparency and data economy play a crucial role in our society. A longer-term solution for website operators would be to use data-saving tools and only use tracking when it is really needed. We have already written about consent-free tracking with Matomo as an alternative to Google Analytics. As an open-source web analytics platform, Matomo, formerly Piwik, is a real alternative to Google Analytics and with the right use, website owners can even avoid using cookie banners.
As a company, we attach great importance to data protection and offer our customers various products that guarantee data protection. In addition, we will be happy to advise you on all aspects of this topic. We look forward to your contact request!
20.04.2023 - Increase of Cyberattacks [more...]
25.05.2022 - Mastodon - Alternative to Twitter [more...]
27.04.2022 - Special protection for Critical Infrastructures in times of war [more...]
30.03.2022 - Secure & DSGVO-compliant teamwork with Nextcloud [more...]
22.02.2022 - Google Analytics not permitted in Europe from a data protection perspective [more...]
19.01.2022 - Promotion of Open Source [more...]
16.11.2021 - Our aixCMS [more...]
29.07.2021 - IT security with aixzellent [more...]
03.05.2021 - Challenges with mobility data [more...]
26.02.2021 - Mobile Device Management with Relution - Device Management for schools and SME [more...]